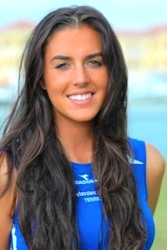 At age 20, Jovana Vasic seemed destined for a bright future.
She was nationally ranked in college tennis and recently accepted a full-ride scholarship to Northern Arizona University. Born in Belgrade and raised in Des Plaines, she also dabbled in modeling and was seen in the eyes of her family and schoolmates as an up-and-coming star.
Vasic and her dad, Milan Vasic, were en route to her new school when a semitrailer truck crossed a median in Texas and crashed into their car.
Milan Vasic, who was driving, was injured. Vasic was killed on the scene.
She would have attended Northern Arizona as a junior after her time at St. Petersburg College in Florida, where she also attended on a tennis scholarship.
"Our thoughts and prayers go out to the Vasic family," said Athletics Director Jim Fallis in a statement. "Coach Bruno and our whole program are devastated. We were looking forward to her joining our program."
Vasic was ranked as the No. 25 player in the National Junior College Athletic Association and played No. 1 and No. 2 singles at St. Petersburg College last season, according to the school.
She was team captain during the 2010-11 season in Florida, as well as an honors student with a 3.36 GPA.
"She was going to change the face of NAU tennis," said NAU Director of Tennis Kim Bruno. "She was the most competitive player I have ever seen. I felt privileged that she chose us and chose to come to school here."
"Jovana exemplified to the highest degree what it meant to be a team leader and true competitor," said Phil Girardi, coach at St. Petersburg. "She was an outstanding teammate, player and friend to us all on the team. Words cannot express the loss the team is feeling at this time."